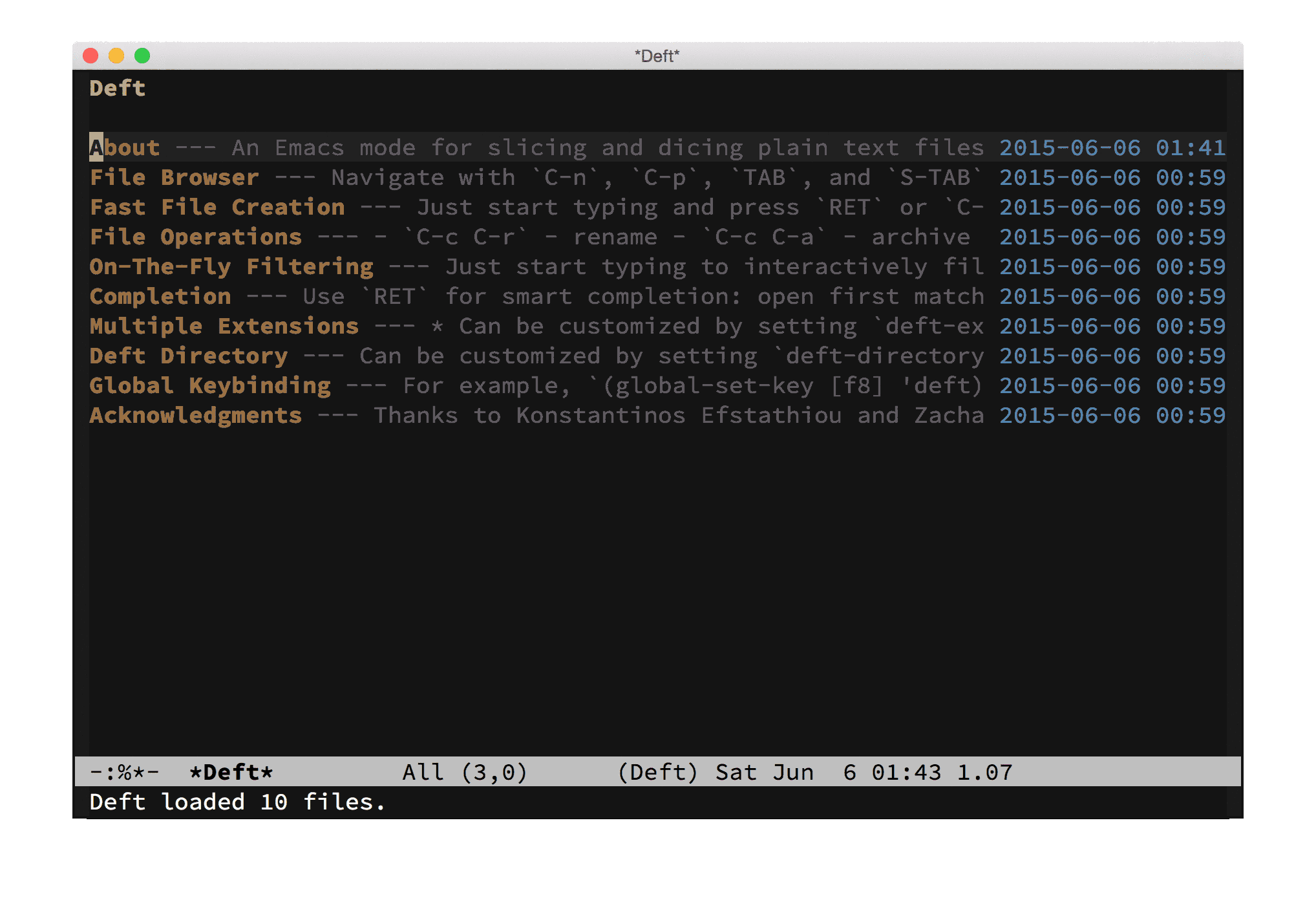 Deft version 0.6 was released on June 26, 2015. This new stable version can be downloaded here:
This version offers the following new features and enhancements:
Recursive search in subdirectories (optional). Set deft-recursive to a non-nil value to enable.
Support for multiple extensions via the deft-extensions list. As such, deft-extension is now deprecated.
New variable deft-create-file-from-filter-string can enable generation of new filenames based on the filter string. This decouples the title display (deft-use-filename-as-title) from the actual filename generation.
New variable deft-file-naming-rules allows customizing generation of filenames with regard to letter case and handling of spaces.
New variables deft-markdown-mode-title-level and deft-org-mode-title-prefix for automatic insertion of title markup.
Archiving of files in deft-archive-directory.
Ability to sort by either title or modification time by setting deft-current-sort-method to either 'mtime (default) or 'title.
Update default deft-strip-title-regexp to remove the following:

org-mode #+TITLE: tags
MultiMarkdown Title: tags
LaTeX comment markers (i.e., %)
Emacs mode-line declarations (e.g., -*-mode-*-)

Remove leading and trailing whitespace from titles.
Disable visual line mode to prevent lines from wrapping.
Enable line truncation to avoid displaying truncation characters.
Show the old filename as the default prompt when renaming a file.
Call hack-local-variables to read file-local variables when opening files.
Bug fixes:
Fixed several byte-compilation warnings.
More robust handling of relative and absolute filenames.
Use width instead of length of strings for calculations.
Fix string-width error with empty file.